Until one has loved an animal, a part of one's soul remains unawakened.
— Anatole France
Pet Wellness Care for Better Pet Health
Wellness
All pets are not created equal. Each pet deserves the best quality veterinary care available. At Mountain View Animal Clinic, keeping your family pets healthy is our goal. A thorough history, including up-to-date blood test results, gives us a baseline against which we can measure changes in your pet's health.
Early detection and treatment are very important to make sure your pet stays well. For example, if your pet's blood tests indicate that he or she has an immunity disorder, we would want to get that under control before administering vaccines. Attempting to immunize a pet that doesn't have an intact immune system can overload his or her system, resulting in a bad outcome.
Our Comprehensive Approach to Pet Care
During your pet's regular examinations, Mountain View Animal Clinic's veterinarians will show you symptoms of health problems to look for and we'll listen carefully to your questions and observations. An educated and involved pet owner is our best ally. The more knowledge you have, the better decisions about treatment and care options you can make.
During each twice-yearly exam, in addition to a complete nose to tail hands-on check, we will take the time to examine and discuss: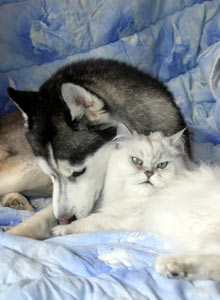 Weight, diet, and nutrition
Vaccines
Heart, skin, ears, lungs, and eyes
Behavior issues or changes
Teeth and your pet's mouth
For all pets, an annual fecal exam is done to check for intestinal parasites. In addition, we test dogs annually for heartworm disease in accordance with the American Heartworm Society guidelines. After a negative heartworm test, we will prescribe heartworm prevention medication.
Exercise & Nutrition Build a Healthy Pet
You are what you eat! Because your pet's diet contains the components to help him or her build a healthy body, we want you to feed your pet high-quality food. From playful puppy time through to the senior years, the best food has an important part to play. We recommend Royal Canin and Science Diet.
Regular exercise, at least a 15-minute walk three times a week, is crucial for your pet. As well as helping to control weight and keeping your pet fit, vigorous play time outside and regular walks lead to fewer behavior problems.
Brushing Your Pet's Teeth
Having your pet's teeth cleaned here at Mountain View is great. And there is much you can do to keep those teeth clean and free of bacteria at home. With this step-by-step process, your pet can learn to enjoy having his or her teeth brushed.
Prepare your pet by rubbing the gums each day and reward him or her with a treat. Your pet will learn that this is an activity with a reward at the end.
After a week or so, put some of the special pet toothpaste on your finger and rub the teeth and gums. Allow your pet to taste it and give plenty of praise.
Once your pet is accustomed to your finger in his or her mouth, try using the tooth brush with the paste. Stay with it! Your pet will thank you.
If you have any questions or concerns about how to brush your pet's teeth, ask any member of our staff.